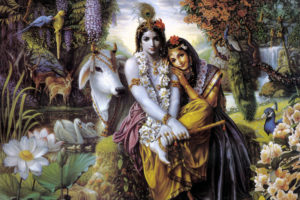 Daykho Brindaabana kunja mayree
Naachay Nanda-kumaara
 Mora mukuta sira oopara sohay
Gala phoolana kay haara
Peetambara kati beecha viraajay
Murali adhara-sudhaara
 Veenaa taala mridangee baajay
Baajay jhaanjha sitaara
Chhana chhana chhana chhana nupura baajay
Kara-kankara jhankaara
 Sakhiyon kay sangha Raadhaa naachay
Naachay vraja kee naara
Gwaala baala saba milakara naachay
Kara karakay sringaara
 Jalachala mohay thalachala mohay
Mohay nabha sanchaara
Brahmaananda muneeshvara mohay
Bansi dhura niradhaara
See how my Nanda-kumaara (Krishna) dances in the Brindaban forest.
On His hair is a peacock feather and on His neck is a garland of flowers.
Around His waist is tied a yellow cloth on which He keeps His flute.
The Veena, mridang, jhaanja and sitar all play a melodious tune while He dances.
Jingling anklets also add music to this symphony.
Radha and her friends dance to this beautiful sound.
The cowherds gaily dressed, all dance together.
Water, earth and sky- creatures are charmed by this sight.
The poet Brahmanand expresses the hope that he too becomes charmed by the flute.