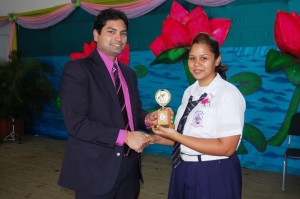 Chelsie Ramsingh, a young, enthusiastic, optimistic student, entered the doors of Swaha Hindu College motivated to achieve. Encouraged by the high disciplined, dedicated teachers and mentored by the Principal at that time, Pt. Balram Persad, Chelsie was challenged to become a scholarship winner. At an early age, she displayed the unyielding ability to accomplish any task she put her mind to. She became a role model for many students to emulate, as she progressed through her academic world.
Chelsie succeeded at the CSEC level when she attained seven ones. It is at this point that she realized her desire to pursue medicine; however, this would not have been possible having not completed Chemistry at O' levels. Under the guidance of her Chemistry teacher, Satyanand Maharajh, she decided to complete the entire O' level syllabus in one year. By this time, Chelsie not only got a one in O' level Chemistry, but also distinctions in Communication Studies, Biology and Environmental Science.
By the second year in form six, Chelsie attempted both units in Chemistry and completed the other units in Biology and Environmental Science, as well as Caribbean Studies. She again achieved all ones with distinctions in Environmental Science, Chemistry and Biology. Special thanks to the Principal Pt. Gyandeo Persad who continued to encourage Chelsie along the path of success and her Form six subject teachers, namely, Pt. Ishwar Madho Maharaj, Satyanand Maharajh, Ambika Madho Maharaj, Sunita Maharaj, Kamla Rambally, Rajin Singh and all other teachers who contributed to her success.
It is without a doubt that Chelsie's parents also played a pivotal role in their daughter's success. The values, positivism and discipline that the Ramsingh's instilled in Chelsie are applaudable and their blessings made Chelsie's journey to success a much more comfortable one.
As evidenced from Chelsie's outstanding success, unwavering faith in God, the blessings from one's parents, a healthy and positive psyche and guidance from committed, professional teachers are ingredients for outstanding academic students and exemplary, patriotic citizens.