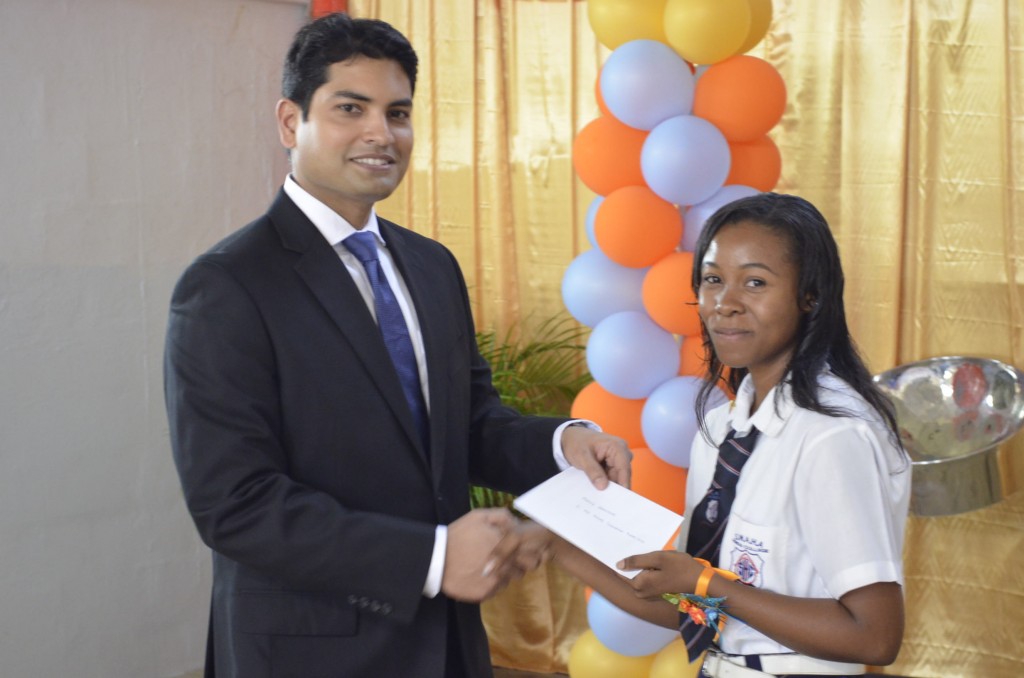 The Board of Education of Swaha, the Principal, teachers and students of Swaha Hindu College, and indeed the Swaha organisation wish to congratulate Ms. Monifa Armstrong on copping an Additional Scholarship in Environmental Studies. She attained all ones in Caribbean Studies, Communication Studies, Biology, Chemistry and Environmental Science. She has left an indelible mark on the hearts of the teachers and students as she was and is a very humble and amiable student who displayed tremendous school spirit by actively participating in all school's activities. Monifa also had an insatiable appetite for learning.
Monifa was able to successfully balance study time, extra-curricular activities as well as challenges that came her way. She was the BPTT Secondary Schools' National Environmental Debate Winner in 2012; placed first in the Essay and Art categories in 2015 and second in Rotary Club's 'Go Green' competition in 2014. Monifa's outstanding contributions were not limited to just these. In collaboration with the school's instrumental group, she qualified for the finals of the 2012 Children of Mastanas as the lead harmonium player. She even represented the school with distinction and honour at the finals of the Secondary School's Dance Festival in 2012 and 2013.
Her goodhearted nature urged her to volunteer for many philanthropic causes such as the tutoring the students of the Tulsi Manas Primary School in Reading, Math and Creative Writing skills. Monifa also assisted the Swaha Tulsi Manas Mandir with marching for Swaha's annual Sports Day and has been an active participant in Ramleela for the past five years. She was also recognised for volunteering in programmes offered by the Ministry of Health and the Eastern Regional Health Authority this year.
Monifa's journey was not without challenges. At the age of 11, she was diagnosed with scoliosis which permanently damaged some of her nerves, especially in her hands. This caused great difficulty with writing and left her with excruciating back pains. A few days before writing her CAPE exams she developed pneumonia and was sent for immediate medical attention. Notwithstanding these challenges, Monifa emerged successful. She has attributed these successes to the grace of God, the support of her parents, her teachers, and her friends.
Monifa's advice to all students is to attend school regularly, pay attention in class, study hard and participate in as many extracurricular activities as possible. She does not subscribe to students taking additional lessons. Monifa relied solely on the expertise of her teachers at school and sought their help when difficulties arose in grasping the various concepts. She continues to live by her credo "It is always better to try and fail than fail to try." Monifa is currently pursuing the Bachelor of Medicine, Bachelor of Surgery (MB BS) degree programme at The University of the West Indies. Swaha salutes Monifa and wishes her all successes in the future.