(Left)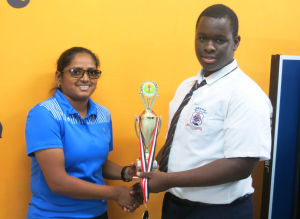 Miss Alisa Mohammed (P.E. teacher) presents Kadeem Stoute with a trophy and medal. (Click on photo for larger image)
Kadeem Stoute, a main member of a "Pelau Team" which consisted of students of Valencia Secondary, Sangre Grande Secondary and Swaha Hindu College, participated in the Secondary School's Regatta at Salybia River on Sunday 24th April, 2016. The team came first, winning this Regatta.
Kadeem shares some information about Dragon Boating-
"This is a very fun, active sport. It teaches you discipline, team-work and focus. Your speed, agility and strength will increase. In this sport, technique, timing and power play important roles. It is very important to stay hydrated, preferably with water."
Congratulations Kadeem! Keep it up!