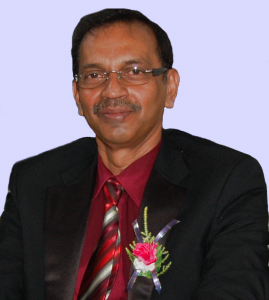 The retirement function of Pt Gyandeo Persad was held at Swaha Hindu College on Wednesday 25th May 2016, in the presence of the Parmacharya of Swaha Incorporated, Pt. Hardeo Persad, other Pandits of the Dharma Mandal, representative of Swaha Board of Education Chairman, North Eastern Educational District SSIII, Mr. Kendall John and other specially invited guests.
Pt. Gyandeo held the distinguished post of Principal at Swaha Hindu College during the years 2011 to 2016. He was the second principal of the school, the first being Pt Balram Persad.
Punditji was noted for his affable personality, his cordial relationship with staff and students and his firm position on education as a form of individual development towards making Trinidad and Tobago equipped with outstanding citizens.
In his address, Paramcharyaji complimented the outgoing principal for his inner strength, perseverance and determination that distinguished him in every field in which he served.
Acting Principal Pt Ishwar Madho Maharaj described Pt. Gyandeo as one who stood firmly on the pillars of Sanatan Dharma (truth, cleanliness, compassion and charity)and encouraged the entire student body to build their lives upon them.
Pt Gyandeo, in his farewell speech to the student population, parents and other specially invited guests, expressed how grateful he was to contribute 30 years of service to education. He advised students to continue on the path to success.
The entire school bade farewell to Pt Gyandeo as he left the assembly, by wishing him the very best during this new chapter of his life.