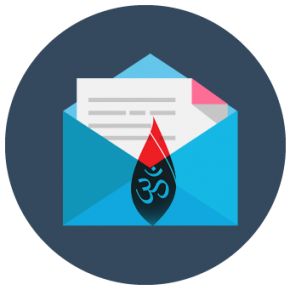 The SWAHA newsletter was started in 1995 with the intention of fulfilling the educational and informational needs of Hindus. It has also been an important avenue for voicing SWAHA's opinions on national issues. We are pleased that, during this time, 249 issues of this newsletter have been printed and distributed throughout our temples, schools and the national community. From January 2016, the traditional printed SWAHA Newsletter will be replaced by a monthly email newsletter containing relevant articles, horoscope and information on SWAHA activities delivered at the beginning of every month. In addition, members of the email list will receive pertinent information (the whys and hows) on special religious observances a day or two before they occur. In this way, we hope the email newsletter will continue to provide value to the Hindu Community.
You can subscribe our Email Newsletter by entering your email address below*:
*NOTE: If you do not see the SWAHA Newsletter emails in your inbox, please check your spam folder to ensure that the emails are not automatically being routed there.