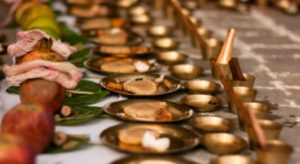 Mankind is charged with five (5) daily Yagnas (obligations), of which the sustenance of Pitris( ancestors) is of utmost importance. The 15-day observance of Pitra Paksha, affords everyone the opportunity to participate in ritual offerings in the name of Pitris which is one of the key ways to acknowledge their contribution to society. While this may not be humanly possibly on a daily basis, it is important to understand that carrying on the name and enhancing the societal value of our ancestors is also part of our daily obligations.
It is said that one who loses wealth, loses nothing much; one who loses health, loses a lot; but one who loses character and name, loses everything.  This alone underscores the importance of building and maintaining a reputable name in society.
It is important that we understand the unique value-systems which have been put in place by our ancestors.  We can analyze these at the national, community and household levels. At the national level, we must all continue to be good citizens: be honest, dutiful, and have integrity in our places of study and work.  At the community levels, we must practice cleanliness in our homes, properties and their environs. We must be caring and concerned neighbours, and corporative citizens overall. Being involved in special interest organizations and non-profit organizations, our temples, and events which promote human advancement and human development are essential elements of character building. This is part of a mutual exchange between man and society.
Within our own families, there are traditions which should kept alive, not for the sake of placating ancestors, but it is part of our learning process as we ourselves nurture a new generation. Our Paramparaa – culture, values and traditions depend on us to stay alive. Understanding this and performing such with purity of purpose is vital to honouring ancestors. Additionally, recognizing the value of these treasured gems and enhancing them for future generations ensures its eternal sustenance.
Apart from these, Pitris are sustained through the blessings derived also from pious actions such as the giving of donations in the name of Pitris, genuine Seva or service to society, undertaking Teerath( pilgrimage), gifting of Murtis and religious artefacts to deserving religious institutions, and the list goes on.
While maintaining the rituals of Pitra Paksh through tilanjali offerings, and performing Pitra Puja at the appointed time, the manner, and approach with which we live our daily lives is equally important. We should examine closely the contribution that we are making to society and ask ourselves whether it justifies the sacrifices of our ancestors. What are we doing with the baton that has been passed on to us? We should embrace the systems and practises that are enshrined in Sanatan Dharma and in the paramparaa that are part of our upbringing. We must all embody this rich inheritance and pass them on. Doing this will certainly nourish our ancestors.