Dharma Mandal
Paramacharya Pt. Hardeo Persad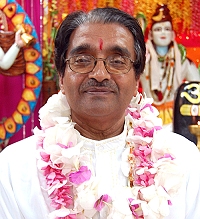 Paramacharya Pt. Hardeo Persad, Spiritual Head of SWAHA International marked his fiftieth year as a practicing pundit in August 2017. For over five decades, this illustrious Hindu priest, teacher, mentor and spiritual guide has been actively involved in the religious, educational, socio-civic and physical spheres of development, both locally and internationally. This altruistic servant-leader has been walking on the path of advancement of human aspirations unceasingly, nurturing and advancing the welfare of others, without any expectation of reciprocity.
From infancy, the child Hardeo, the first son of Shankaracharya Pt. Hari Prasad and Mrs.Chandrawtie Persad, was deeply inspired by his illustrious father, and wanted to be a pundit of his ilk. As he grew up, this spark was further ignited by the training he received from his Guru, the late Pt Ramchandra Maharaj.  The eager student embarked on formal training in punditai (field of service of a Hindu priest) alongside his pursuit of secular education and embraced his calling with pride, enthusiasm and courage.
In August 1967, he conducted his first puja, marking the formal commencement of his service as a pundit. This step also meant his initiation into active Hindu religious services where he began distinguishing himself as an inspiring force for enlightenment. This later blossomed into an intense commitment and dedication to the strengthening of the religious, spiritual, moral and ethical ideals of Sanatan Dharma in a changing environment.
During his 25 years as a secondary school Mathematics teacher, his humane and philanthropic manner in handling students' issues impacted positively on their lives and earned him their deepest respect and gratitude.
With the formation of SWAHA in 1993, many large-scale service-oriented projects were initiated that impacted positively on the national landscape. Today, the nation has been enriched with the establishment of SWAHA ECCE centres, primary and secondary educational institutions, a Children's Home and growing religious centres and branches spread across the length and breadth of country.
Punditji assumed the position of Paramacharya, Spiritual Head of SWAHA in 2008, on the passing of the Shankaracharya. The tremendous impact he has created in different areas amidst varying cultures has positively influenced the lives of many. . He saw leadership as a privilege to improve the lives of others Today, Paramacharya is the Guru of over ten thousand shishyas (students initiated by Guru).
The straightforward, refreshing views of Paramacharya on topical issues have been frequently sought and publicly expressed on national media. These views are reflective of his depth and clarity of thought. Not only is he a visionary leader but also, a principal agent of change. His five-decade experience of walking the talk has gifted him with a voice that expresses the depths of Hinduism. The resounding success of his recent publication, 'What You Need to Know About Hindu Death Ceremonies' is a clear indication that Paramacharya is indeed a game-changer. Today, his suggestions for modifications to rituals are gradually being embraced by Hindus.
As Paramacharya marks his golden anniversary in active service of punditai, he continues to labour in his down-to-earth manner. He is a true soldier of Sanatan Dharma, an individual who serves a cause greater than himself.
---
Pt. Balram Persad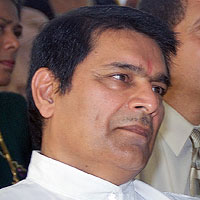 Pt. Balram Persad is a senior member of the Dharma Mandal and the Upa-Paramacharya of SWAHA. He was appointed the first Principal of SWAHA Hindu College from where he retired in February 2012. He is the Spiritual leader of SWAHA Om Shakti Mandali of Aranguez. At present, he is the principal of Tulsi Manas Primary School. He is the Director of SWAHA Board of Education.
---
Pt. Prof. Prakash Persad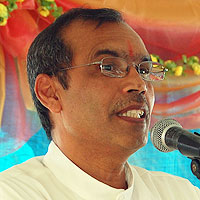 Professor Pt. Prakash Persad, senior pundit of Dharma Mandal, is the Spiritual Leader of Divya Ashram, Preysal. He is a professor of Mechatronics at the University of Trinidad and Tobago.   Professor Persad is a member of the Caribbean Academy of Sciences, the Association of Professional Engineers of Trinidad and Tobago, the Institute of Electrical and Electronic Engineers and Director of the International Society for Productivity Enhancement.
---
Pt. Gyandeo Persad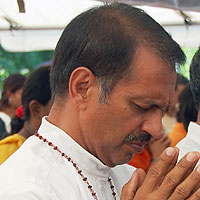 Pt Gyandeo Persad, Chairman of the Dharma Mandal, is the Spiritual Leader of Sukh Shanti Bhakti Mandali and Dharma Jyot Mandali. He is the holder of a Bachelor of Arts  degree with first class honours in Languages as well as  Diploma in Education from the University of the West Indies.  He has also completed studies at Indian tertiary institutions, having won two scholarships in Hindi. Pt Gyandeo served as Principal of SWAHA Hindu College, a post from which he retired in 2016. He is the composer of the SWAHA Geet and the SWAHA Chaaleesaa.
---
Pt. Maniedeo Persad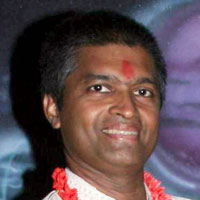 A senior member of the Dharma Mandal, Pt Maniedeo Persad is the Spiritual Leader of SWAHA Shri Raam Dhaam of Diego Martin and Director of SWAHA Media. A former High Commissioner to India, representing the Government of Trinidad and Tobago, Pt. Maniedeo spear-heads SWAHA's International Gita Forum and Ganesh Visarjan annually.
---
Pt. Sondath Maharaj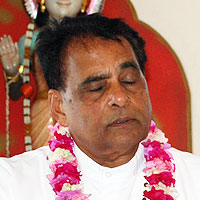 A senior member of the Dharma Mandal, Pt Somdath Maharaj has over four decades of experience in the priesthood, ministering to the needs of devotees across the length and breadth of Trinidad. He is the son-in-law of the Shankaracharya of SWAHA, His Holiness Pt Hari Prasad.
---
Pt. Umadutt Maharaj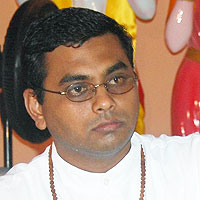 A member of the Dharma Mandal, Pt Umadutt Maharaj is the Spiritual Leader of SWAHA Gyaan Bhakti Mandali of California, SWAHA Bhakti Jyot of Aranjuez and SWAHA Sanatan Brahm of Gasparillo. He is also the current President of SWAHA and Director of Sports.
---
Pt. Jaidath Maharaj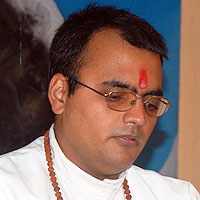 A member of the Dharma Mandal, Pt. Jaidath Maharaj is the spiritual leader of the SWAHA Gyaan Jyoti Mandali and a director of SWAHA .  He is a also a director of Swaha Media. He holds an undergraduate degree in accounting, a post graduate diploma in education administration and a Master of Education with distinction in the area of curriculum development. He currently holds the position of Manager, Quality at the Arthur Lok Jack Graduate School of Business, University of the West Indies
---
Pt. Ishwar Madho Maharaj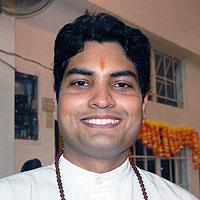 Pt. Ishwar Madho Maharaj is the eldest son of the late Pt. Mohan Madho and Mrs. Tara Madho Maharaj. He holds a M.Sc. and a Postgraduate Dip. in Education. Currently Pt. Ishwar is the Acting Principal of SWAHA Hindu College. He is attached to SWAHA Tulsi Manas Mandir and the Longdenville Hindu Mandir. In addition, Pt. Ishwar is also the Secretary of the Dharma Mandal.
---
Pt. Dr. Umesh Persad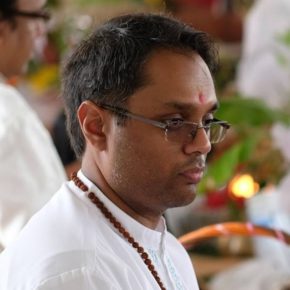 A member of the Dharma Mandal, Pt. Dr. Umesh Persad  is the  Spiritual Leader of the SWAHA Gyaan Deepak Kirtan Mandali in Aranjuez. He is an Assistant Professor in the Design and Manufacturing Department at the University of Trinidad and Tobago.
---
Dharma Sansad
Pt. Artma Persad
Pt. Dave Maharaj
Pt. Dharamraj Maharaj
Pt. Harnarine Maharaj
Pt. Khemraj Rampersad
Pt. Lakhram Bisram
Pt. Dr. Lomas Persad
Pt. Rabidutt Maharaj
Pt. Shyam Gosine
Pt. Rajendra Persad
Pt. Rajiv Maharaj
Pt. Shammi Maharaj
---
Pt. Varistha Persad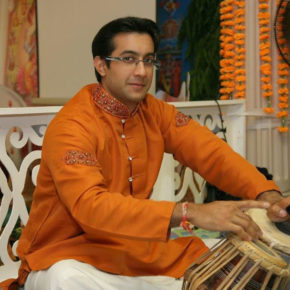 Pt. Varistha Persad is the son of Pundit Balram Persad. He is an experienced teacher and researcher having read for a Bachelor's degree in English Language, Literature and Education. He also holds a Master's degree in Literatures in English, a Postgraduate Diploma in Education in Secondary Education and Teaching from the University of the West Indies, St. Augustine Campus. He is  currently pursuing a PhD in Literatures in English.
---
Pt. Vasistha Persad
Pt. Vinayak Persad
Deceased
Shankaracharya Pt. Hari Persad
Pt. Parmanand Persad
Pt. Prof. Laxminarayan Sharma
Pt. Kisoon Maharaj