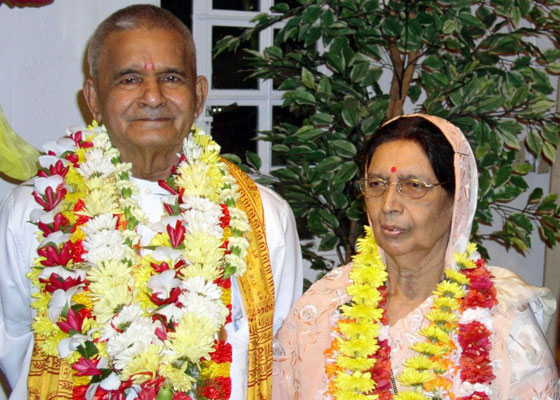 Pt. Hari Prasad, Shankaracharya of Swaha, was respected and revered worldwide for his spirituality, devotion and foresight. Shankaracharyaji was Guru and guide to thousands – an iconic pillar of Sanatan Dharma. He was 80 years of age at the time of passing (Maha-Samaadhi) on April 15th 2008.
Shankaracharyaji was born on December 11, 1927 in Aranjuez to Pt. Pateshri Tewarie and Dhanmatie Tewarie. The 4th of seven children, he was initiated at the age of 15 by his guru Tiwari Baba and excelled at Hindi and Sanskrit under Pt. Bibhudial Sharma. Though his formal education was limited to the primary level, Shankaracharyaji was fully educated in the religious field, and he was guided by his guru to pursue the path of spirituality and become a full-time Pundit. He was married to the late Shrimati Chandrawti Prasad for 60 years, with whom he raised seven children, one girl and 6 boys. After her passing, he continued to influence and support the development of their 18 grandchildren and 5 great grandchildren. He was able to train and develop as pundits his six sons, one son-in-law, ten grandsons, one grand son-in-law and many other Pundits in Trinidad and Tobago.
Shankaracharyaji always stressed the role and value of education in self development. He encouraged all his children and grandchildren to pursue the highest educational qualifications, and considered his family to be his greatest achievement. He also stressed the value and importance of family life. Not only was he physically strong, but on numerous occasions he demonstrated internal strength in the face of adversity. He remained resolute in the face of criticisms and the death of loved ones.
During his 65 years as a pundit, Shankaracharyaji initiated thousands of devotees from around the world including the United States, the United Kingdom and India. His spiritual advice and counsel was sought by national leaders, scholars and other spiritualists. He made himself available to all, without fear or favour, and opened his arms to every person, regardless of creed, race, and social standing. He excelled in all areas of life, serving as a shining example and role model for all society.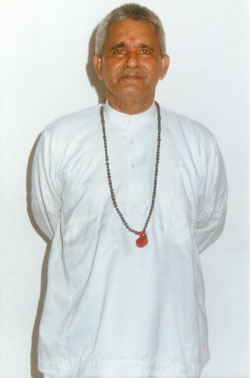 He was first involved in the Sanatan Dharma Maha Sabha, where he was a senior pundit and a Dharma Ratna. However, he recognised that enlightened ritualism and a clear understanding of the philosophical underpinnings of Sanatan Dharma were needed in these modern times. In addition, he realised that novel administrative structures for Hindu religious organisations were required to implement effective leadership. Fulfilling the role of a true visionary, he founded Swaha International in 1993. Under his astute leadership, in a short 15 years, Swaha has grown into an international non-profit organisation involved in religious, cultural, educational and social work. He has contributed generously to the development of each Swaha centre, each one a tribute to his great legacy.
Shankaracharyaji was bestowed the title Ramayana Bhushan by the world authority on Ramayana, Professor Laxshmi Narayan Sharma. In addition, he was honoured by the International Meditation Society, with the founder Maharishi Mahesh Yogi showering praise upon him for his contribution to the development of Hinduism in Trinidad and Tobago. These all bear testimony to the worldwide acceptance of the spirituality and greatness of Shankaracharyaji.
Over his life, Shankaracharyaji embarked on twenty four pilgrimages to India, where he visited the holy spots including Mathura, Ayodhya, Kaashi, Rameshwaram, Haridwar and Rishikesh. This connection to India was further concretised recently when his ancestral village was located. It was found that around 1906, Pt. Pateshri Tiwarie, Shankaracharya's father, left the village of Prattap Pur in Basti, Uttar Pradesh for Trinidad and Tobago. He left behind his father Pt. Ramnath Tiwarie and his sister Tapeshwari. Tapeshwari has a grandson, Pt. Prahalad Dubey, who is currently the residing pundit in the village. Through his generosity, Shankaracharyaji decided to assist in developing the village. Thus, the first Swaha centre in India is currently being developed in Prattap Pur.
Without doubt, Pt. Prasad influenced countless lives. He lived and worked for others all through his blessed life, being the embodiment of self-sacrifice and the ideal husband, father, and Guru. He constantly advised to have faith in God, develop stability of mind and believe in our Scriptures. He always emphasized that God has blessed us with everything that we need. Therefore, we must continue to maintain dharma and live a simple life at the feet of God. Once we perform self-sacrifice, never compromise our principles, and have compassion for those around us, his name will be forever held high.
To Shankaracharyaji, thank you for everything you have done for us, for bringing us your vision that has impacted so strongly on so many lives. The Swaha family pays tribute to a unique individual, His Holiness, Shankaracharya of Swaha, Pt. Hari Prasad.
Testimonials
"… a Hindu icon has fallen and will be sorely missed by all. Punditji has left a lasting legacy in the SWAHA organisation that he founded and headed as Shankaracharya. This organisation has had a tremendous influence and impact on Hindu affairs, in the building and expansion of our mandirs and in imparting education to all in the building and running of schools for our children. Due to Punditji's foresight and vision, SWAHA will remain a beacon for Hindus and Hinduism everywhere."
– National Council of Indian Culture
"Pundit Hari Prasadji has left the Hindu community more secure, more dynamic, more integrated than it was when he entered this world. The personal experiences of a caring, compassionate guruji are legendary. Hari Pundit has touched the lives of thousands of chelas over many generations."
– Mr. Hans Hanoomansingh, Heritage Radio