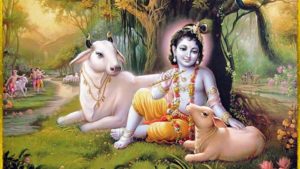 Ayka baara phir to aawo
Bana bana bicharnay vaalay
Leelaa dikhaawo Bhagavana
Leelaa rachaanay vaalay
Krodhaadi kaama hamako
Banakara asura sataatay
Inasay bachaawo Bhagavana
Jana kee bachaanay vaalay
Girivara uthaakay tumanay
Vrajako bachaayaa tumanay
Aba phira vahee samai hai
Natavara kahaanay vaalay.
Bana bana charaakay jinakay
Gopaala tuma kahaayay
Gavaayn tumhayn bulaatee
Gaavayn charaanay vaalay
Kansaadi ko badha kara
Bhoobhaara ko mitaayaa
Aba paapa baarha hai bhi
Bhoobhaara haranay vaalay
Bhakton kee tayra sunkara
Aawo kishora Bhagavana
Duniyaa mayn sukha say bhara do
Shree Krishna naama vaalay
Come one more time, Lord
Show us that divine play
Created by You
As you wandered through the forest.
The demons of anger, lust
And others torment us
Guard us against these, Lord
For you are the one who saves the world.
You lifted the mountain
Saving the villagers of Vraj.
That time is here once again Lord
Known to all as the great dancer.
You are called Gopaal
The one who grazed the cows in the forest
The cows are calling you
You who are the great cow-herd.
You destroyed Kans and the other demons
And removed the burden from the earth
Now the earth is once more engulfed in sin
Come and lift the burden once again.
Listen to the cries of your devotees
Come and champion their cause
Come, Lord, fill the world with happiness
O Lord Krishna