B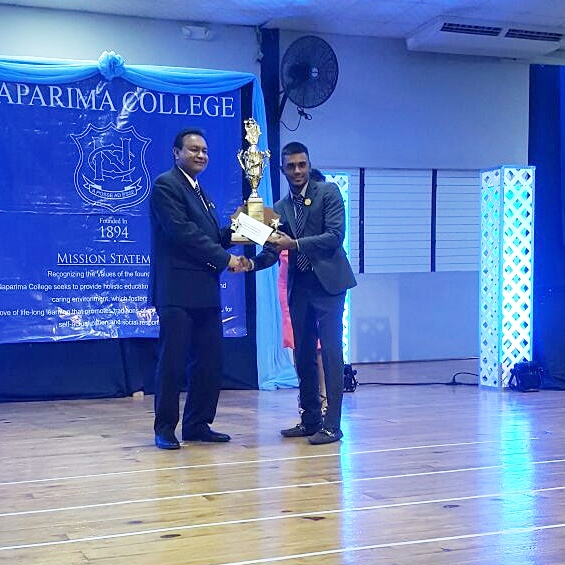 orn in the heart of south Trinidad, in a rural village in South Oropouche, Varun Ramadhar was attracted to temple life as a child. At age two, he was already a full-fledged member of SWAHA Dharma Jyot Mandali, attending and participating in many activities like his mother, Rookmin Khadoo, a member of the temple's executive.
Varun's academic brilliance shone from his pre-school days at Mt Carmel Private School where he emerged class valedictorian. He continued in this vein of excellence as a student of Avocat Vedic School, where he placed among the top 200 students in the SEA examination. This outstanding performance earned him a place at his first-choice secondary school, Naparima Boys' College.
At secondary school, Varun continued to excel in every sphere of academia, despite challenging times.
Despite having to deal with the trauma of losing his Dad, Ramjeewan Ramadhar, a mere nine months prior to writing his CSEC Examinations,Varun gained nine grade ones.He went on to pursue CAPE at this noble institution. His success continued as he acquired a national scholarship (additional)in Mathematics this year.
Varun graduated at the top of his class at Naparima College, attaining the most prestigious award, 'The Naparima College Gold Ring Award for the Best All Round Student'. He is currently pursuing his degree course in Mechanical Engineering at The University of the West Indies, St. Augustine Campus.
Varun's success was not limited to the academic arena only. He is a sport enthusiast who represented Naparima College at various levels in cricket. As a child-participant in SWAHA Swadeshi story-telling and poetry competitions, Varun's natural talent bloomed over the years. He provided stiff competition to his competitors and was always among the winners, shining brighter each year that he took the stage. His knack for public speaking, moulded by his participation in this competition, led him to the Chambers of the 13th National Youth Parliament as a youth member.
With an eye for upliftment of the village, Varun initiated Dharma Jyot's very own youth group. He demonstrated that with a solid spiritual base, one can conquer any challenge or obstacle standing in one's way.
Varun attributes his success to faith in God, hard work and determination. He expresses heartfelt  gratitude to all who assisted and supported him over the years.
No doubt, Varun is an example of true excellence. He was able to successfully balance his school-work with temple activities. SWAHA congratulates Varun and wishes him all success as he continues to blaze a trail of outstanding performance in various fields of endeavour.