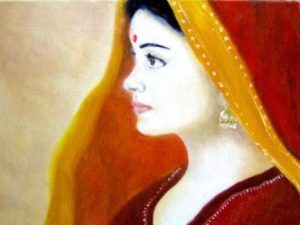 Usako naheen daykhaa hamnay kabhee
Para uskee zaroorata kyaa hogee
Ai Maa, ai Maa, tayree soorata say alaga
Bhagavaana kee soorata
Kyaa hogee, kyaa hogee
Insaana to kyaa dayvataa bhee
Aanchala mayn palay tayray
Hai svarga isee duniyaa mayn
Kadamo kay kalay tayray
Mamataa hee lootaayay jisakay nayana
Aisay koyee moorata
Kyaa hogee, usako…
Kyon dhoopa jalaayay dukhon kee
Kyon gama kee ghataa barsay
Yay haatha duvaao vaalay
Rahatay hain sadaa sara po
Too hai to andhayray patha mayn hamayn
Sooraja kee zaroorata kyaa hogee…
Kahatay hain tayray shaana mayn jo
Koee oochhay bola naheen
Bhagavaana kay paasa bhee maataa
Tayray pyaara kay mola naheen
Hama to yahee jaanay tujhasay bareeha
Sansaara kee dowlata kyaa hogee…
We have never seen the face of God.
O Maa, but what is the need to behold a face that would, in no way, be different from Yours?
Not only ordinary beings, but great personalities were fondled in Your lap. 
Heaven on earth is found at Your feet.
What other being can reflect mother's love in the eye?
When your hands are placed on our heads to bless us, how can pain and distress ever touch us? 
What need is there for sunlight when you are there to guide us in times of emotional distress?
No one can compare with you in greatness and majesty. 
Even God cannot fathom your love. 
No richness in the world can supercede you, O Mother.