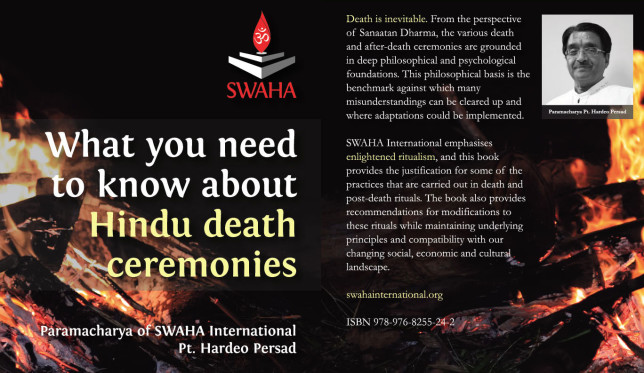 The Dharma Mandal of SWAHA cordially invites you to the book launch and book signing of  What You Need To Know About Hindu Death Ceremonies authored by the Paramacharya of SWAHA, His Holiness Pt. Hardeo Persad, Spiritual head of SWAHA.
Date: Sunday 21st February 2016
Time: 6:30pm-8:00pm
Venue: Learning Resource Centre Auditorium, UWI ST. Augustine.
Book signing with the Paramacharya: 8:00pm – 9:00pm
Guests should be seated by 6.15pm
The book will be available for sale at a cost of $50.
What is the book about?
Death is inevitable. From the perspective of Sanaatan Dharma, the various death and after-death ceremonies are grounded in deep philosophical and psychological foundations. This philosophical basis is the benchmark against which many misunderstandings can be cleared up and where adaptations could be implemented.
SWAHA International emphasises enlightened ritualism, and this book provides the justification for some of the practices that are carried out in death and post-death rituals. The book also provides recommendations for modifications to these rituals while maintaining underlying principles and compatibility with our changing social, economic and cultural landscape.
Book Contents
1    Acknowledgements
2    Introduction
3    Death and the Soul
4    Preparation for Death
5    The Three Main Hindu Death Ceremonies
6    The Antyeshti Sanskaar – The Funeral Ceremony
7    Dasgaatra – The Purification Ceremony
8    Shraadh (Bhandaara)
9    Suggested Adaptations to these Ceremonies
10    Conclusion
11    Items Required for Ceremonies
12    Glossary